Health Care Injuries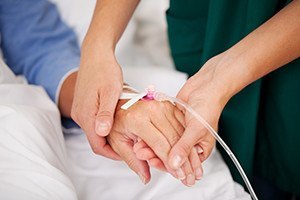 Workers' Compensation Attorneys Guiding Individuals in Boston
Many people may not realize how common illnesses and disabling injuries are in the health care professions. Some of the most likely jobs in which a worker can become sick are medicine, nursing, psychiatry, orthopedic assistance, emergency room work, and residential facility work. In fact, nurses report the highest number of non-fatal injuries of any job, and it is believed that they are underreporting. If you suffer a health care injury in a Boston workplace, the experienced workers' compensation lawyers at Pulgini & Norton may be able to represent you in a claim for benefits.
Seeking Benefits for Health Care Injuries
Musculoskeletal disorders and back problems are the most common types of health care injuries. Helping patients or standing for long periods can cause these issues. Health care injuries may also arise out of poor working conditions, repetitive strain, fatigue, or a lack of protocol around handling patient weight. Nurses and residential facility staff, for example, often move patients between beds multiple times a day and must move in awkward positions to support the patients. These maneuvers place immense strain on the spine.
The workers' compensation system was put in place to make sure workers would be protected if they were hurt on the job or developed a job-related illness. Under Massachusetts law, employers are required to obtain workers' compensation insurance, and injured workers can potentially recover a broad range of benefits, including compensation for temporary or permanent disability, medical care, and a portion of lost wages. In some cases, employees can receive benefits to be retrained.
The Department of Industrial Accidents (DIA) administers the Worker's Compensation Law. It primarily serves as an administrative court system that resolves workers' compensation claims that are denied by insurers, either in full or in part. While the DIA does have staff to help guide you through the process of filing a claim, it is important to secure the advice and representation of a knowledgeable attorney if you believe your claim may be denied or if it already has been denied.
Insurers tend to deny or skimp on benefits for back injuries, arguing that these injuries were caused by preexisting conditions. For example, as a nurse who repeatedly lifts patients, you may have a legitimate claim for benefits when your back goes out. The insurer, however, may point to degenerative disc disease as the source of the injury. Can you recover benefits?
It depends. When you are hurt on the job and the harm combines with or exacerbates an earlier injury, you may still be able to recover benefits. You cannot recover benefits, however, if the injury arose before you started working for the employer or was sustained off the job. In Massachusetts, if an injury combines with a pre-existing condition that is not compensable to cause a disability or a need for medical care, the condition is compensable to the extent that the work injury is a major cause of disability or need for medical care. The work injury does not have to be the predominant cause of the disability.
Seek Legal Guidance in Boston for a Workplace Accident Claim
At Pulgini & Norton, our attorneys serve Boston residents who have been involved in workplace accidents or developed job-related illnesses, helping them to seek the benefits they need. Call us at 781-843-2200 or contact us via our online form for a consultation. We also represent workers' compensation claimants in Braintree, Hyde Park, and Andover, among other Massachusetts communities.