Teachers and Educational Workers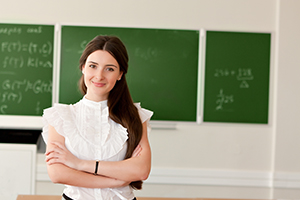 Boston Attorneys Skilled in Job Injury Claims
Teachers and educational workers face significant challenges in the workplace and may suffer many types of job-related injuries as a result. Among them are injuries to the vocal cords, carpal tunnel syndrome, broken bones, job-induced stress, violence on campus, and toxic exposure to mold, pests, or dust. If you suffer injuries or illness on the job as a teacher or educational worker, the Boston workers' compensation lawyers at Pulgini & Norton may be able to help you.
Workers' Compensation Benefits for Teachers and Educational Workers
If you are injured on the job, you should report the injury to your employer, which can then report the claim to its insurer. You will need to be incapacitated for five calendar days in order to get your lost wages reimbursed. Most employers are required to purchase workers' compensation insurance. The workers' compensation insurance system provides benefits such as medical expenses, lost wages, disability benefits, and vocational rehabilitation to employees who are injured while performing their job duties.
Educational workers who work for an institution or company on a contract basis should be aware that benefits are available to employees but not independent contractors. However, in some cases, an employer misclassifies a worker as an independent contractor in order to avoid paying benefits. Massachusetts has a strong presumption that a worker is an employee.
In order to figure out whether you have been misclassified, it will be important to determine whether you are free from company or school direction in connection with your services, whether the service performed is outside your company or school's business, and whether you are customarily engaged in an independently established trade or business of the same nature as what is involved in the services that you are providing. All three of these factors must be in your employer's favor for the employer to deny that you are an employee.
The workers' compensation system was designed in order to allow employees an opportunity to get benefits without bringing an expensive lawsuit in which they would need to prove fault. In most cases, employees do not have a right to sue their employer in order to get more compensation than the benefits available through the system.
Teachers may be able to obtain benefits even if they were injured off campus while chaperoning for a school event. In one case, a teacher hurt in a skiing accident during a school ski club trip was able to recover workers' compensation benefits. This was because the activities were considered work connected to her employment and an extension of her employment duties as a teacher, even though she voluntarily participated. You should not assume that being injured on a field trip or at a recreational activity associated with your school means that you do not have recourse to workers' compensation benefits.
Contact a Knowledgeable Workers' Compensation Lawyer in the Boston Area
Teachers and educational workers are often the unsung heroes of our society. People who are injured while working have a right to bring a claim for benefits. If you are a teacher or educational worker who has been hurt on the job, Pulgini & Norton's Boston workers' compensation attorneys are ready to help. We can assist claimants in Hyde Park, Quincy, and Newton, among other Massachusetts communities. Call us at 781-843-2200 or complete our online form to set up a free appointment with a workplace accident attorney.