Soft Tissue Injuries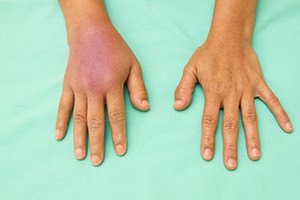 Workers' Compensation Lawyers Advising Boston Residents
Soft tissue injuries are very common in the workplace. They consist of damage to muscles, tendons, and ligaments, and they can result in pain, loss of function, or swelling. They may occur for numerous reasons, including a blow to part of the body or a sprain or even simple overuse. One of the most common examples is whiplash after a car accident. Immediately after a soft tissue injury is incurred, a worker may suffer from inflammation and pain, and will need to rest. The Boston workers' compensation attorneys at Pulgini & Norton are available to advise claimants who are seeking benefits based on a soft tissue injury.
Benefits for Soft Tissue Injuries
In some cases, it can be more difficult to secure workers' compensation benefits for soft tissue injuries because direct proof of these injuries is more challenging to produce than direct proof of a broken bone or sprain. Diagnostic tools such as x-rays easily show a broken bone, but they may not necessarily show a muscle tear or nerve damage or deep bruises. It is important to visit a doctor and obtain a clear diagnosis for the purpose of bringing a workers' compensation claim.
Some common soft tissue injuries include carpal tunnel, nerve injuries, tendonitis, shoulder bursitis, fatigue, joint stiffness, swelling, lower back pain, and neck pain. These injuries are often sustained in an office and can get worse over time due to lack of movement, repeated strain, prolonged exertion, heavy lifting, or cumulative trauma.
However, soft tissue injuries are also common among people who have to travel for work, particularly those who spend long periods of time in cars for work-related purposes. Whether your injury is the result of a single trauma or is a cumulative injury, you may be able to recover workers' compensation benefits as long as certain conditions are met.
Generally, workers' compensation does not cover employees with a fixed place of employment who are coming to or going from work. This is called the coming and going rule. However, two factors can create an exception to this rule: whether you were being paid at the time of the accident and whether you were reimbursed for the cost of travel between your home and the place you were going. A travel allowance may make soft tissue injuries incurred on the road for work compensable. Another exception exists when an employee is injured on the employer's property, such as a workplace parking lot where the employee was required to park.
Benefits you may be able to receive through your workers' compensation insurer include medical expenses, prescription drugs, medical mileage, surgery, therapy, lost wages, partial or total disability, disfigurement or loss of function, and vocational rehabilitation. If you are incapacitated due to a job-related injury, your employer's insurer must pay a certain portion of your former wage, even if you were partially at fault.
Consult a Boston Attorney for Your Workers' Compensation Claim
At Pulgini & Norton, our experienced Boston workers' compensation lawyers can help you recover benefits for job-related soft tissue injuries. In some cases, insurers may downplay the severity of a soft tissue injury because there is less documentation to support even those cases involving significant pain. This makes it especially important to retain an experienced workplace accident attorney. Our firm also advises and represents claimants in Lowell, Newton, Somerville, and other cities in Massachusetts. Call us at 781-843-2200 or contact us via our online form for a free consultation.