Scaphoid Fractures
Boston Attorneys for Workers' Compensation Claimants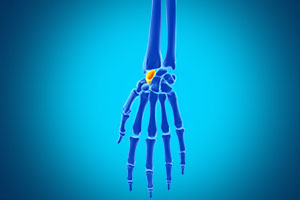 The scaphoid bone is a carpal bone in the wrist, on the side with your thumb. When there is a scaphoid fracture, there is a break in that small bone, and it usually happens if you fall onto your outstretched hand. After the fall, you may have signs of a scaphoid fracture, such as pain and tenderness that worsen when there is an attempt to make a pinching or grasping motion. Parts of the scaphoid are not well supplied by blood, and sustaining a fracture may result in further disruption of blood flow to the bone. Therefore, there may also be complications while the scaphoid fracture is healing. If you sustain a scaphoid fracture on the job, the Boston workers' compensation lawyers at Pulgini & Norton may be able to help you recover benefits.
Scaphoid Fractures
The scaphoid bone is a curved bone located in the hollow created by your thumb's tendons. It is a bone that allows for both stability and motion in the wrist joint, and it may be important for many different types of work, including both manual labor and office jobs. When this bone is fractured, there is usually tenderness or pain in the hollow of the thumb tendons. When there is a scaphoid fracture, it may be treated with casting or surgery, but the treatment will depend on the severity of the fracture and where the fracture is located on the bone, such as whether it is broken in the waist or at the proximal or distal end of the bone.
When there is a non-displaced fracture, the bone fragments will line up, but when there is a displaced fracture, the bone fragments may scoot out of their ordinary place, and there may be gaps between them. If you sustain a scaphoid fracture as a result of a workplace accident, you may be able to obtain workers' compensation benefits, including medical benefits and incapacity benefits. It is critical to inform your employer and see a doctor if pain persists for more than a day in the area of the injury. Receiving prompt treatment is important to avoiding complications and further incapacity.
Workers' compensation benefits to which you may be entitled include medical benefits and temporary or permanent disability benefits, as well as vocational rehabilitation and loss of function benefits. Sometimes a lump sum settlement is offered as a one-time payment to replace the weekly compensation check that is standard. It is critical to obtain legal advice if an insurer has offered a lump sum settlement. You may be giving up more than what you realize. Generally, both the insurer and you need to agree to this settlement, and an administrative judge at the Department of Industrial Accidents (DIA) will also need to approve it. Sometimes people who receive a lump sum settlement are still eligible to get vocational rehabilitation benefits.
Workers' compensation benefits may be stopped for many different reasons. These include your return to work, an order from an administrative judge, arbitrator, or higher court, a medical report stating that you are able to work together with your employer reporting that there is a suitable doctor-approved position for you, a failure to attend an evaluation by the insurer's doctor, or a refusal to cooperate with a DIA Vocational Rehabilitation Review officer. Sometimes benefits are also stopped after a claimant is convicted of a felony or misdemeanor.
Retain a Skillful Boston Attorney for a Workplace Accident Claim
You should never hesitate to report an injury that you suffer on the job. Notifying your supervisor or manager right away is important to your workers' compensation claim, and seeking medical care promptly, even if that means time off from work, is critical to avoiding complications or the worsening of your scaphoid fracture. If your scaphoid fracture is work-related, you have a right to obtain workers' compensation benefits for it. At Pulgini & Norton, our Boston attorneys can advise you on workers' compensation claims arising out of many different medical conditions. We also handle claims in Malden, Quincy, and Cambridge, among other Massachusetts cities. For a consultation with a workplace accident lawyer, contact us online or at 781-843-2200.