Janitors and Maintenance Staff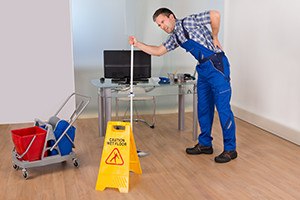 Workers' Compensation Lawyers Representing Boston Employees
Janitors and maintenance staff can suffer a wide range of injuries while working. Sometimes these injuries are the result of repetitive motions, while other times they are the result of exposure to chemicals or spills. Some common injuries include ergonomic injuries arising out of cumulative repetitive stress or sudden motions, electric shock, blood-borne pathogens, falls, toxic chemical exposure, and more. These different risks may combine together or with a pre-existing condition to cause an injury. In some cases, for example, chemicals can trigger asthma attacks, or working with electrical equipment around a spill can result in electric shock. Janitors and maintenance staff who are injured on the job should consult the Boston workers' compensation attorneys at Pulgini & Norton about their right to benefits.
Benefits for Injuries to Janitors and Maintenance Staff
Often, janitorial work triggers or exacerbates a pre-existing condition. For example, someone with a disc injury may suffer an exacerbation of that injury while mopping the floor. Someone with a spur on the bottom of his foot may suffer an aggravation of this injury while doing janitorial tasks.
While you cannot receive workers' compensation benefits for an injury you sustained before starting work for your employer or while you were not on the job, you can recover benefits if you were injured on the job due to a workplace accident exacerbating or combining with a pre-existing condition. In this situation, insurers sometimes claim that working did not cause the injury. However, in many cases, work really does aggravate an injury, such as when the injury involves joints, neck pain, back pain, carpal tunnel, psychiatric illnesses, repetitive stress fractures, or muscular degenerative disease. A pre-existing condition is not a sound reason to deny compensation.
If you are injured at work, the presumption is that the injury is job-related. Moreover, in Massachusetts, employers are required to provide compensation for any injury that significantly exacerbates a pre-existing condition or for a condition that combines with a current injury, creating the need for treatment or disability leave. The critical issue for janitors and maintenance staff is whether the job injury is a major cause of harm. The job injury does not need to be a primary or predominant contribution to the ultimate injuries sustained.
Proving that a job injury is a major cause of harm can be challenging, but it may be accomplished by showing a need for medical or emergency care, an extended disability, an inability to do one's usual janitorial tasks, the loss of a former position, physical limitations, or restricted work hours.
Sometimes janitors and maintenance staff must work with equipment in order to complete their job tasks. If that equipment is defective and harms the worker, the manufacturer or supplier may be liable in a third-party lawsuit for product liability. In such a lawsuit, you may need to prove that the product was defective and caused your injury, or in some cases, you may need to prove the manufacturer or supplier's negligence.
Discuss Your Workers' Compensation Claim with a Boston Attorney
If the insurer denies your claim, it will be represented throughout the claims process by an experienced workers' compensation lawyer. It is important not to underestimate the importance of retaining an attorney to represent your interests as well. Our experienced Boston workers' compensation lawyers represent janitors and maintenance staff in connection with their on-the-job injuries. We represent injured people in Braintree, Cambridge, Lowell, and other Massachusetts cities as well. Call us at 781-843-2200 or contact us via our online form for a free consultation with a workplace accident attorney.