Vibration White Finger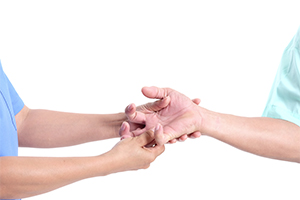 Boston Lawyers Skilled in Job Injury Claims
Vibration white finger is also known as Hand Arm Vibration Syndrome, White Finger Syndrome, or Dead Finger. It is an industrial injury that is caused by regularly using vibrating tools like pneumatic drills, chain saws, impact wrenches, riveting guns, jackhammers, sanders, polishers, and angle grinders. Some industries in which workers are at particular risk for this type of job-related injury are engineering, mining, forestry, construction, foundries, autos, and highway maintenance. If you experience occupational vibration white finger, you should retain the Boston workers' compensation attorneys at Pulgini & Norton to seek benefits on your behalf.
Seeking Benefits for Vibration White Finger
Vibration white finger may happen in your hands or arms, based on vibrating tools or machinery. The equipment may restrict your blood flow, causing a discoloration that is red and white. During a flare up, there will be pain and discomfort that may last for up to 30 minutes, depending on how much damage has been done to your hands or arms. The condition is chronic and progressive, and eventually it may result in a loss of hand functioning and necrosis of your fingers. You may also experience numbness, tingling, and weakened grip. When it is advanced, the finger may blanch entirely.
In order to prevent this syndrome, your employer should give you protective gloves to use. The amount of time that you spend using vibrating equipment may affect the severity of this condition. Prevention is important. Although the early stages of this condition may be reversed if you reduce your exposure to the vibrations, you may not be able to reverse or treat the condition once your fingers blanch.
The most important thing to do if you suspect that you have vibration white finger is to get medical attention. You are entitled to adequate and reasonable care paid by your employer's workers' compensation insurer. This may include visits to the doctor or hospital and prescriptions. Your employer may require your first scheduled appointment to be with a doctor within its preferred provider arrangement, but after that you have the right to choose your own doctor and change this doctor once.
You may be able to recover temporary or permanent disability benefits. These are calculated based on your average weekly wage.
In certain jobs, there is no way to avoid vibrating tools. Vocational rehabilitation services may be available to restore you to appropriate employment at a salary that is commensurate with your income prior to the injury. These services may include vocational testing, counseling, or workplace modifications. In some cases, a worker might return to work for their employer with modifications to the workplace or on light duty. It is illegal for a Massachusetts employer to fire or otherwise discriminate against you as a qualified handicapped person, due to your vibration white finger.
Contact a Work Injury Attorney in the Boston Area
Vibration white finger may be mild and temporary or chronic and advanced. The severity of the condition will affect the types of benefits that you may get. If you develop vibration white finger on the job, you likely are entitled to workers' compensation benefits. The Boston lawyers at Pulgini & Norton may be able to advise and represent you. We handle claims in Waltham, Braintree, Cambridge, and other cities in Massachusetts. For a consultation with a job injury attorney, contact us online or call us at 781-843-2200.