Motor Vehicle Accidents On The Job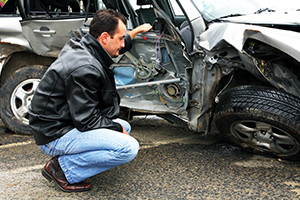 Dedicated Workers' Compensation Lawyers for Boston Employees
When driving is part of your job, there is always the risk that you may end up in a motor vehicle crash. These collisions often lead to serious injuries that can take a significant time to heal. At Pulgini & Norton, we know that a job-related accident can take a toll on you financially and physically. A Boston workers' compensation attorney at our firm can help you seek benefits if you were involved in a motor vehicle crash while working near Boston.
Motor Vehicle Accidents on the Job
Operating a vehicle plays a major role in a number of occupations. Shipping companies, for example, rely on their drivers to deliver cargo on time. Work-related accidents can include car, truck, bus, commercial van, and forklift crashes, among others.
A motor vehicle collision can cause a significant number of injuries. Fractures, internal organ damage, and burns are just some examples. Sometimes, an injury can prove fatal. According to preliminary data from the Bureau of Labor Statistics (BLS), over 1,100 fatal accidents occurred in transportation and material-moving occupations in 2013.
Seeking Benefits for Work-Related Collisions
You may be eligible for workers' compensation if you were injured in a job-related motor vehicle crash. Massachusetts employers have to provide their employees with coverage in case they are hurt or suffer an illness at work. If driving a motor vehicle is within the scope of your employment, and you are involved in an accident while performing your job, you may be entitled to workers' compensation for your injuries.
Your accident must leave you unable to return to work for at least five non-consecutive days for you to qualify for benefits. Forms of compensation may include:
Coverage for reasonable medical care for the duration of your disabling injury;
A percentage of your weekly wage based on the extent of your disability;
A one-time payment for disfigurement or loss of certain bodily functions; and
Job retraining in some cases.
Your employer's insurer will determine if you are eligible for coverage, but in many cases, an insurer will deny or later try to modify your benefits. You may need to appeal the insurer's decision by filing a claim with the Department of Industrial Accidents (DIA). Our attorneys can represent you at all stages of the claims process.
Personal Injury Lawsuits and Motor Vehicle Accidents
Another party, such as a driver or car part manufacturer, may be at least partly responsible for the crash. You may have a viable personal injury claim against this person or entity. You could potentially receive damages for amounts beyond what is covered by your benefits.
You may have both a third-party and a workers' compensation claim. If your employer's insurer makes you a lump sum settlement offer, you should present the offer and the personal injury claim to the DIA administrative judge in your case. The judge can then take the separate claim into consideration when deciding if the lump sum settlement offer in your workers' compensation case is fair to you.
Benefits for Survivors
The BLS data show that job-related motor vehicle accidents are sometimes fatal. You may be entitled to survivor benefits if you are the spouse of a deceased person. Benefits include wage compensation equal to two-thirds of your lost loved one's average weekly salary, up to the maximum set by the state. A dependent child may also be eligible for benefits if he or she is a minor, a full-time student, or unable to work because of a physical or mental disability.
Explore Your Options with a Boston Job-Related Car Accident Attorney
At Pulgini & Norton, our workers' compensation lawyers represent Boston employees and their families. We have more than 40 years of collective experience advising and advocating for the rights of individuals harmed at their jobs. If you were in a motor vehicle collision while pursuing a work-related activity, our injury attorneys can assist you in seeking workers' compensation benefits or bringing a claim against a third party. We represent individuals in Hyde Park, Waltham, and Medford, among other Massachusetts communities. Call us today at 781-843-2200, or complete our online form for a consultation.