Slip & Fall Accidents On The Job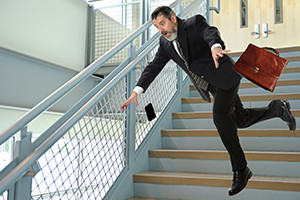 Workers' Compensation Attorneys Representing Victims in Boston
Slip and falls are among the most common types of workplace accidents. Although they may seem minor, they can lead to injuries that require extensive care and time away from the job. The work accident lawyers at Pulgini & Norton offer guidance to people who have been hurt on the job. A Boston slip and fall lawyer with significant experience handling these claims can help you assert your rights.
Slip and Fall Accidents on the Job
Workers in a number of industries may slip and fall as a result of dangerous and often preventable conditions. Restaurants, warehouses, office buildings, and construction sites are just some environments in which an individual may suffer an accident. The Occupational Safety and Health Administration has guidelines in place that are designed to protect workers from potential hazards at their jobs. For example, construction companies must provide their employees with guardrails and safety nets on building sites.
Slip and fall accidents often cause concussions, sprains, and fractures, which can require significant time off work. According to the 2012 Massachusetts Occupational Injuries and Illnesses Report, more than 24 percent of job-related injuries or illnesses in the private sector were the result of slip and falls. The Bureau of Labor Statistics (BLS) reported that fractures from falls on the same floor level typically required 30 days off from work in 2012. Preliminary 2013 BLS data shows that nearly 700 workers sustained fatal job-related slip and fall injuries.
Asserting Your Right to Benefits
Massachusetts employers are required by law to provide workers' compensation coverage to their employees. This no-fault insurance program offers medical, wage, and other benefits if they are hurt or fall ill in the course of employment.
To qualify for benefits, you must miss at least five days as a result of your injury. Your employer's insurer will decide whether or not to approve your claim. You can receive coverage for reasonable medical care associated with your injury, as well as a portion of your weekly wage. Your wage benefits will depend on the extent of your disability. You may also receive vocational rehabilitation to help you return to work at your previous earning capacity.
While obtaining workers' compensation may sound straightforward, it is usually a somewhat complex process. Your employer's insurer may initially deny your claim, pay you benefits during the first 180 days after your accident and then decide not to approve your claim, or it may try to reduce or stop your benefits for a variety of reasons. For instance, the insurer may challenge whether your accident actually occurred within the course of your employment. It may also claim that your harm is the result of a pre-existing condition, rather than something that arose from the slip and fall. You would need to appeal the denial or request for modification with the Department of Industrial Accidents (DIA). This appeals process involves various steps, including a conciliation with a DIA representative and conferences or hearings with an administrative judge.
In a tragic situation, a person's loved one may have succumbed to a fatal accident at work. Certain survivors and dependents are entitled to workers' compensation benefits if their relative died in a job-related slip and fall. A surviving spouse, for example, may receive weekly wage benefits equal to two-thirds of his or her deceased spouse's average weekly wage, subject to the state's cap, for as long as the spouse remains dependent on the income and does not remarry. Certain children are also eligible for dependent benefits, including minors, full-time students, and people with disabling conditions. Survivors and dependents also will receive compensation for burial and funeral costs.
Seek Advice from a Boston Slip & Fall Lawyer
At Pulgini & Norton, our workers' compensation attorneys have more than four decades of experience handling these claims. A seasoned slip and fall attorney can provide Boston employees with knowledgeable representation to help you seek the benefits you need. We can assist you in any proceeding before the DIA. Our clients come from Massachusetts communities such as Weymouth, Medford, and Newton. Call us today at 781-843-2200 to schedule a consultation. You can also contact us through our online form.