Warehouse Accidents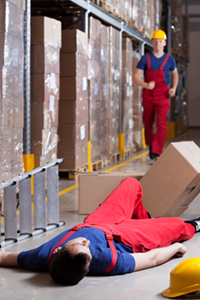 Boston Lawyers Assisting Injured Employees in Seeking Benefits
Warehouses can be particularly hazardous places to work. Although employers must adhere to certain safety guidelines, a worker can still suffer injuries in spite of, and certainly in the absence of, these measures. At Pulgini & Norton, we represent individuals throughout the Boston area who have been hurt in warehouse accidents. Our workers' compensation attorneys have over 40 years of collective experience helping employees and their families seek damages for job-related harm. We can help you pursue a claim for workers' compensation or a personal injury lawsuit if a third party was responsible for the accident.
Warehouse Accidents
Warehouses often have potentially dangerous conditions that can injure people there. The Occupational Safety and Health Administration (OSHA) enforces safety standards in the workplace. Warehouse employers must take steps to ensure the safety of their workers by inspecting their premises and machinery and offering adequate training. They must also provide ventilation in the facility and ensure that fire extinguishers and other safety precautions are in place in case of a fire or explosion.
Despite OSHA's safety standards, however, warehouse workers can still suffer injuries from numerous dangerous workplace conditions, including:
Improperly stacked products;
Faulty electrical wiring or systems designs;
Unsafe forklifts, machinery, or mechanical tools;
Defective floors or walls;
Lack of protection from harmful fumes or other causes of possible respiratory illnesses; or
Injuries from repetitive motion.
If you work in a warehouse and were hurt at your job, you may be entitled to workers' compensation benefits for your injury.
The Workers' Compensation System
Injured Massachusetts employees have the right to seek workers' compensation. State law requires that all employers obtain this system of insurance coverage in case a worker suffers an injury or illness related to the job. If you endured a fall, electrocution, respiratory damage, or other type of harm while working in a warehouse, you may have a right to claim benefits.
You should seek prompt medical attention and report your accident or illness to your employer as soon as possible. In some cases, you may not know about the link between your injury and your job until much later. You have the right to seek benefits up to four years after you learn of the causal connection.
Your insurer's employer will determine if your condition is covered by workers' compensation. Your benefits, which include reimbursement for a portion of your weekly wage and medical coverage, will depend on the severity of your illness or injury. The insurer, however, may dispute the extent of your disability and your need for certain medical care. If your claim is denied, or if the insurer later wants to reduce your benefits, you can file an appeal with the Department of Industrial Accidents (DIA).
Some warehouse accidents are caused by employer misconduct. For instance, multiple OSHA violations may indicate intentional wrongdoing. Although you generally cannot sue your employer for a work-place injury, you may be entitled to double the amount of compensation if your employer's willful and serious misconduct caused the accident.
Third-Party Claims
A manufacturer, contractor, or other third party also may be to blame for your injury. For example, a defective forklift, conveyor, or other machinery may have caused the accident. You could possibly have a claim against the third party responsible for your injury. You would need to show that its negligence resulted in the warehouse accident and your harm. We have experience handling both workers' compensation and personal injury claims, and we can advise you on how pursuing them simultaneously may affect your benefits.
Seek Guidance from a Boston Attorney After a Work Injury
The work injury lawyers at Pulgini & Norton offer comprehensive representation to Boston employees hurt on the job. If you were harmed by working in a warehouse, we can review your case and discuss your possible benefits under workers' compensation. We can also determine if you have a viable action against a third party. We offer our services to individuals in Brookline, Cambridge, and Braintree, as well as other communities throughout the state. Call our office today at 781-843-2200 or fill out our online form to schedule a consultation.